| | |
| --- | --- |
| Posted on March 21, 2016 at 1:10 PM | |
Derek, It is the day of your wake, but as I start to wake up I see you in my dream. You give me a soft gentle kiss and tell me I can do this. That moment, that feeling of you near me brings me through the entire day.
I went to the funeral parlor early to give them the rest of his outfit for burial which included the slippers he loved to wear in the house or out doing errands. The funeral director met me at the door and escorted me in. His demeanor very gentle and his gaze somber as he told me that Derek was in the other room and ready for me to view. He walked me to the room, took the bag of clothing from my hand and excused himself as I approached the casket. I needed to decide whether or not the wake would be conducted with an open casket. I knew that was my task and as I peered at Derek within the casket I objectively reviewed his eyes, mouth and expression to determine if they had positioned him to look like the love of my life, my best friend. The makeup placed on around his mouth was just too thick and I could just hear him saying "you aren't putting me out there looking like I'm wearing lipstick." I reached in and brushed some of it from his face. His skin was cold and rigid and for a moment I felt my heart sink within me as tears filled my eyes. I quickly turned my attention to his hands as I tried to regain focus. I adjusted the position of the rosary around his fingers and I noticed he did not have his wedding ring on. As I did I heard people behind me, I looked back to see the funeral director and Bo, a firefighter from Hollis. I asked about his ring and was told his fingers were swollen so they had not been able to get it on his hand. He never took that ring off, the only reason it was not on him now was because I was afraid he'd lose his finger from the swelling while he was hospitalized. I felt crushed he wouldn't be able to have it and it most have been written all over my face because Bo quickly turned to the director and asked for the ring so that he could put it on Derek. I left the room as they collected the ring. People were starting to arrive although we were still about forty minutes before family viewing. I walked out to greet them and let them know the room would be ready shortly. Bo came into the lobby, placed his arm around me and whispered that it was all set. I know it seems silly but it was such a relief for me for some reason. I turned to hug him and thanked him as I know it must not have been easy. I went back into the room to decide how and where to place a picture of him during the viewing. I chose to share the picture from the holiday party with a gorgeous smile. His smile was how he greeted everyone every day and I wanted it to be present for all who attended today. I arranged flowers from the children and I on the inside of the casket lid around the Firefighter emblem along with some pictures of us that will stay with him. I gave the funeral director a few James Taylor cd's which he started immediately playing in the viewing room. I walked back beside the casket placing my hand on Derek's and giving a quick glance over to ensure he was ready for viewing. Leaning in, kissing his head I whispered " I love you hun". With that I headed back to the lobby. The children were now here. They swarmed around me and Anna climbed happily into my arms. I let everyone know they could enter Dereks room and I made my way over to the priest that was in the far corner. We chatted briefly as he took notes. I explained to him about how truly awesome Derek was as a husband, father, son, firefighter, EMT and community member. How he was a terrific Dad who devoted his life to the family first and then Firefighting. How he would help anyone, stranger or not without hesitation. How even meeting him for five minutes was enough to leave a lasting impression. The children stayed beside me listening and I hoped that they'd absorb these truths about their father and hold them with them for the future. As the priest walked into the viewing room I knelt down to the children and prepared them for what today would hold. "Daddy's body is in the casket so everyone can say goodbye to him but Daddy's spirit is still with us and in Heaven. He still loves us more than anything and needs us to be strong for him today, Okay?" Their sweet faces stared at me plainly with teary eyes as they acknowledged my words. With that we entered the room and approached his casket which now had Firefighters guarding it on each side. I guided Matt, Jeanne and Nick to kneel while Anna and I hovered behind them. We held hands and said a prayer then headed to the seats in the front row. As the priest spoke I looked at the two firefighters standing as honor guard. Troy and George, two of his best friends. He would have loved that, not only was he honor guard for the Army at one point but he also had served in this capacity as a firefighter as well and truly appreciated the level of respect it showed for the departed individual. The stream of people entering to pay their respects seemed endless. I floated about the room with the children overwhelmed by those in attendance. I stopped against the wall directly across from the casket. Anna now having a clear view of her Daddy laying in front of us repeatedly outstretched her arms saying "Dadda", clearly not understanding why Daddy was not getting up to get her. I snuggled in beside her chubby cheek and whispered "daddy wants to hold you sweetheart but he can't, you have to stay with momma". My heart broke for her as we made our way through the service. In classic Derek fashion however the wake was not without its excitement. Those standing honor guard had switched out many times giving firefighters from all three departments, who desired one an opportunity to stand for Derek. At one point two of the junior firefighters were allowed to stand guard for him. They apparently had not fully understood the importance of not locking your legs while standing guard. As I stood within three feet of the casket I screamed for someone to catch one of them as he began falling towards the wall where a radiator stood directly behind the flowers. While people were starting to attend to him and switching guards the second passed out falling sideways into the flowers and almost into me. My first thought was about the safety of those that had fallen and the second was that Derek was probably laughing right now. A very dear friend of ours, seeing the chaos unfolding, pulled me to her trying to shield me from it. I'm sure she thought it was somehow going to make this service harder for me but I quickly lifted my head from her death grip to ensure everyone involved was okay. She was so sweet repeating over and over its going to be okay we'll fix the flowers, not knowing that inside I actually felt a bit lighter as I could sense Derek's chuckle over the events that had just unfolded. The boys who had fallen were startled but fine, the flowers were stood back up and arranged as they had been. Two veteran firefighters quickly took over as guards and the remainder of the service concluded without anyone else passing out.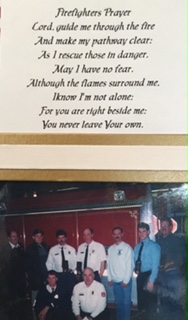 Categories: A Journey Through Grief
/