| | |
| --- | --- |
| Posted on November 29, 2017 at 10:35 AM | |
Here we are again amidst the bustle of the holidays!
I must admit I absolutely love this time of year. The lights, the gatherings and all the sweet treats! Although much less popular I must also admit that this time of year has not always been easy for me. Whether it was dealing with the loss of a loved one during the holiday season or just managing all the extra stresses we face during the holidays. There have been years when I just wanted to throw in the towel. Have someone wake me up on January 2nd so I could avoid all of it. My best friend actually showed up on Christmas one year with chinese food and a cute note saying "pour some duck sauce on your head and go back to bed". Well of course it said other things that were loving and supportive but that was my favorite part. She's the reason ordering chinese food on Christmas day became an annual tradition. I've learned many things along the way that have allowed me to once again truly enjoy the holiday season. One thing in particular has always helped and that's having someone there to listen, confide in and cheer me on. It's for that reason I always offer substantial savings on my services at this time of year. I want to be there for you!
Life gets hard, let's do this together!
Navigate through the holidays with grace and ease, then get ready to take on 2018 with me!
Certified Life Coach, wife, mother, widow and author of "Normal life has twists & turns but mine became a tornado".
I am pleased to be able to offer one on one sessions to support and guide you each step of the way on your journey.
For one week only use code #MY2018 at checkout to get 50% off all sessions at www.DesignYourBeautifulLife.com !
It's a perfect present to yourself you are sure to appreciate for years to come !
I look forward to chatting with you!
What do you want more of in 2018? More love, happiness, peace?
What do you want less of? Less anxiety, stress, sadness?
It's your year, Let's make it happen!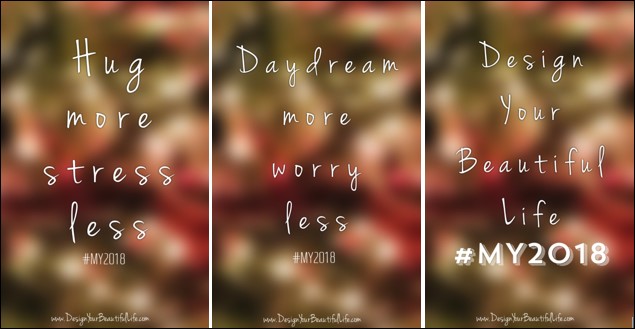 Categories: None
/