| | |
| --- | --- |
| Posted on March 9, 2016 at 12:45 AM | |
It's Sunday January 4th and we have been at this hospital since December 31st. During this time I've learned how to read and understand all the machines that you are hooked to. I've taken to using time when others are visiting you to go to the waiting room computer and research all potential illnesses you could have contracted. With the help of the nurses I have a running list of all things you have been tested for which ranges from the routine to the obscure. We are looking into the person who threatened you from Ebay to see if he could have a link to your illness. My brother contacted a friend of his in the FBI and they've been doing some research. The State Police are now involved as well, I only know that because a detective from there called here looking for you. I was pulled into the waiting room to take a call from a woman by the name of Anna Love, no really that's her name and it isn't befitting of her at all. She was rude and demanded to speak to you. I calmly told her that was not possible a number of times, at least one time stating that you were on a ventilator. I asked if she knew she what a ventilator was and that she had called a hospital. When she finally stopped yelling at me was when I raised my voice as well, started crying and told her I wanted to speak to you too but since you are fully sedated that was not possible for either of us!
You've had a steady stream of people arriving here to see you. Those that are close have been allowed in the room and acquaintances politely told we would let you know they were there. We have a bunch of family members helping out with the children. They've stayed home, are continuing to attend school and can't wait for you to get back. You've taken on a lot of fluid, almost a hundred pounds. You are still not responding to the antibiotics and your blood has become septic. You have been hooked to a dialysis machine to clean your blood. I've posted my favorite picture of you on the bulletin board in your room. It is from when we started dating, huge smile wearing my jacket with Jeannie sewn into the right pocket. I look at it often to escape back to better times, if only for a moment.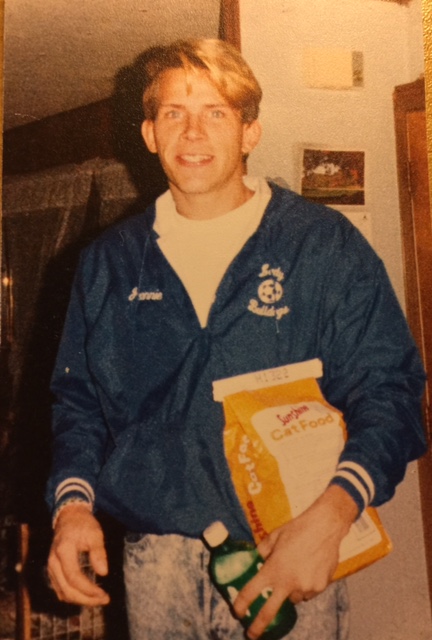 You had a rough night again last night, after your visitors left the evening nurse, Linda, came in to discuss that your vitals had decreased significantly. Your blood pressure had dropped as had your oxygenation level. Because of this they turned off the dialysis machine and needed to flip you on your belly. When she told me my heart sank, you desperately need dialysis as your kidneys have stopped working and your blood is very septic. I understood however that it was the only option because we needed to do anything we could to improve your oxygen level therefore cleaning your blood would have to wait. Dr. Wilson came in to tell me how "sick" you were and that since you are on 100% oxygen already there wasn't much they could do to help you breathe other than changing your position. I was sent out of the room, I left reluctantly and terrified.
I sat in the waiting room reflecting again on why the doctors seem to feel the need to tell me that you're "sick" over and over. Am I not here twenty- four hours a day seven days a week, do they actually think I don't see it? Do they think I'm delusional because I still speak positive about your prognosis? Don't they get that you are my life and I need to find a way to keep you by my side? Moreover, why do most of them say it in front of you. Sedated or not the only things said in your presence should be positive and encouraging. Don't they know the impact their words could have on you? My mind continued to race as I looked around the empty room. After what seemed like an eternity Linda came back to get me as you were now repositioned and appeared stable. I was feeling very frazzled after a such long day so I laid my head on a pillow placed on the table beside your bed and held your hand. I slept there on and off until about 3:00am when I received some information on the Epstein Barr Virus that I had requested from Linda earlier in the evening. She stated you had not yet been tested for that. Could this be the virus that's causing all of this? If so could they reverse the damage if you test positive and they alter your treatment accordingly? I'd be certain to ask the doctors as soon as they arrive.
Categories: A Journey Through Grief
/